Wow, that title is a mouthful.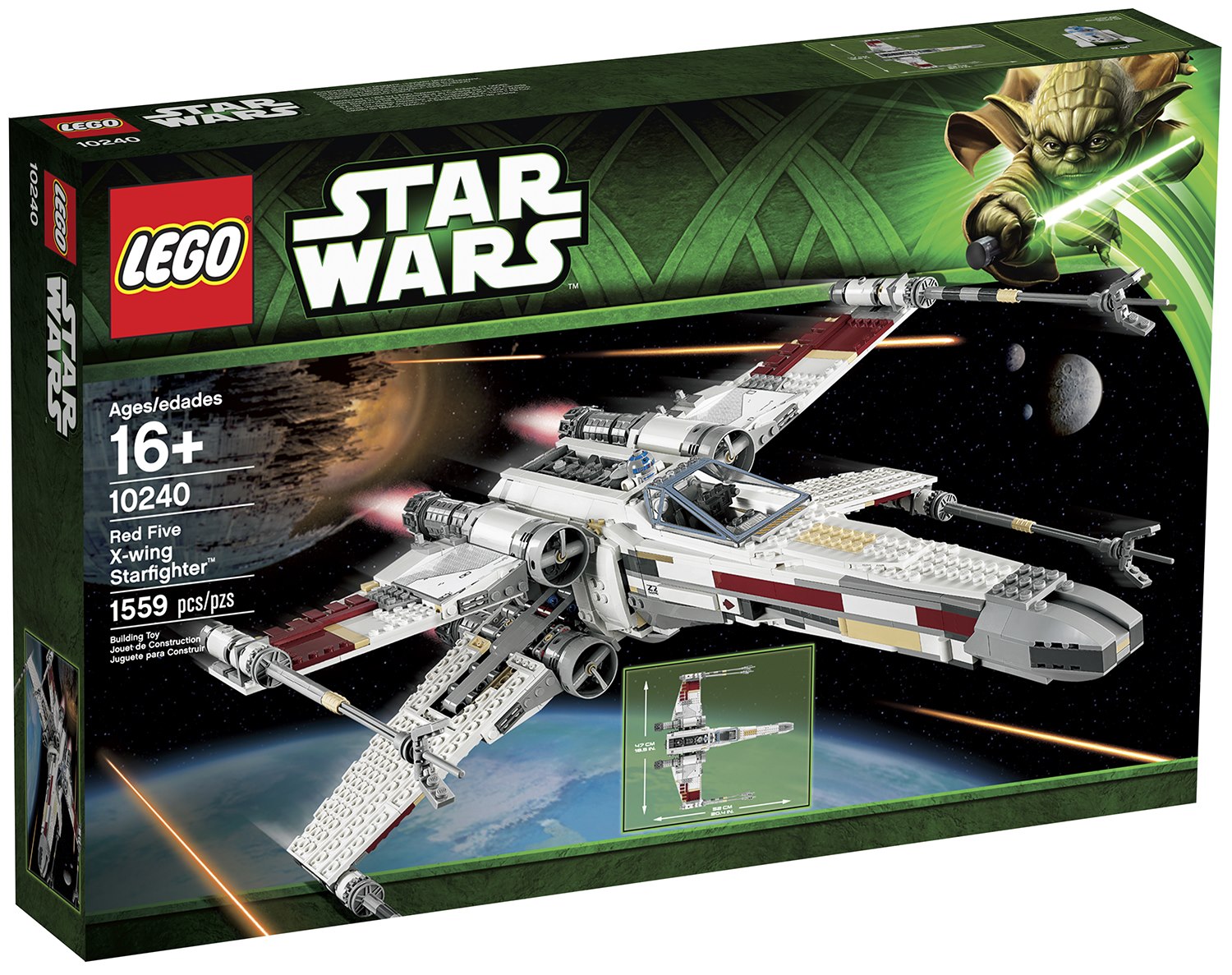 A few months ago I got my hands on the LEGO Red-5 X-Wing, who any nerd knows is Luke's callsign at the Battle of Yavin. So, clearly this is a must-have. I knew it was large, but didn't have anywhere to put it so I left it in the box (a similar fate still plagues my UCS Star Destroyer – it's been in the box, unassembled, for about 7 years). But as chance would have it, I was given an office at work, with a book shelf and some places to actually put stuff. So, like the giddy school boy I was, I eagerly went to work at assembling this piece of badass-ery. Yes, the set has been out for a long time, so this review is neither ground-breaking nor that insightful, but, you know what NBC used to say – "if you haven't seen it, it's new to you!" I'm also aware this is actually a rehash of the original UCS X-Wing from a long time ago. While I don't own that one I've seen it many times, and this new version has many fantastic upgrades.
At over 1500 pieces, the set is pretty hefty. Interestingly enough though, once assembled it doesn't seem like you just put over a thousand little plastic pieces together. Don't get me wrong, the thing is huge and awesome, but it's quite deceiving visually.
It took me about 13 hours to assemble it in total, but there were plenty of distractions: I watched The Wolf of Wall Street (which was fantastic btw), made dinner, walked the dog three times, and watched nearly the entire first season of The Unit on Amazon Prime. But, that's how I roll. A more focused and dedicated person could probably get it done in about 3 hours. It was not a complicated build, even though some of its intricacies are fascinating.
Here are a few pics to get things rolling…

The set comes in 10 numbered bags making assembly and organization an easy step by step process. You never have more pieces on the table than you need for that particular part you're building. The instructions were great with one exception: it neglected to point out where to put stickers on the opposite side of the fuselage after showing one side. It's easy to figure out, but I didn't even realize I had forgotten them until the entire thing was build, on the display stand, and I was picking everything up to throw away the scraps, and saw those 2 stickers still there. That almost was a detail disaster!
Beginnings of the engine compartment

With some added struts that will eventually work to lift the wings.
A little more. The turny button on the back works raises and lowers the wings as you turn it. It's a really awesome design once you have all the pieces together.

Below are some pics of the fuselage as it begins to come together.
The nose section plugs into the engine compartment, and the ship really starts to take shape.
Attaching the nose cone…

This was maddening. The name plate is actually just a huge sticker – and we all know how daunting a task putting stickers onto the models are. If you screw it up and it's crooked or off center – tough shit it's there for good. So I was super nervous about trying to get this thing on there straight and centered. Thankfully, after about 45 seconds of fidgeting with the leading edges, I went for it, and the results were OK. Phew. LEGO. WE HATE STICKERS. Print that shit on the plate, dudes.

All that's left are the wings, now. One MAJOR GRIPE: the cockpit windshield decals are stickers. And if you thought getting the nameplate thing on straight was tough, this was 10 times worse. There are 3 separate pieces, the two sides, and the front/top. The sides were mostly manageable, but still challenging. However the top part was super hard, and if you screw it up, you're completely boned because the adhesive is mega sticky and it ruins the sticker piece to pull it off anyway. So it's a complete loss – your sticker is ruined and there's a gunky residue on the piece. I read this complaint numerous times in the reviews on the LEGO website for the model. It's definitely the worst part of the build.
I didn't take any pics of the wing assembly because it was pretty straightforward and repetitive (4 times), but here is the model sans it's engines and blasters. 

And here are the engines. Well, two of them anyway. As you can see the rest still need assembly. They were a cinch to put together, and I really love the detail. It should be noted the open side goes against the fuselage so it's not incomplete.
A few engines attached.
Done! With s-foils cruise position. Thankfully, the wings don't sag too badly. They could be reinforced a little better I think but overall they are fairly sturdy.

Turn that knob to raise and lower the wings. Again, I like the detail of the engines.
R2D2 is the only minifig that comes with set – mostly because it's not really a 100% minifig scale set – and it's not supposed to be. I like that it's a larger display model instead of a true playable set.
The detail on the front of the engines is nice too. The laser cannons are also well done, and an improvement over the previous X-Wing model.
And of course, it wouldn't truly be a great LEGO set if there weren't hidden gems, like the targeting computer, complete with the visual of the trench run on the display.
Here's a pic I took for scale. That's a Sharpie marker/pen on the table – as you can see, the model is sizable. 
And awesome.
Overall, I'm incredibly happy with the set. It's expensive so it better be worth it. It has excellent sight lines, and of all the previous X-Wings looks most true to the original movie model. It doesn't have a ton of playability because it's not minifig scale, but like I said, for me, that's OK. It's supposed to be a display model – which is why the thing comes with a stand and a name plate.
UCS Red Five X-Wing:
Overall Look: 5/5
Detail: 4/5
Clarity of instructions: 5/5
Fun to build: 5/5
Price: 3/5
Time required: 4/5